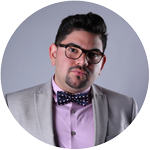 Billy Grande
Board Member
"The reason that I do this work is to help those who suffer to find freedom. My passion is to help people find their intrinsic potential so they can live a life that they are passionate about, a life that they want to live…"  -Billy Grande
Billy Grande was born in Puerto Rico to a loving single mother who struggled with mental illness.  Forced to grow up very quickly, Billy played the father role for his younger brother in times where his mother was too sick to provide the love that the family needed.  Eventually the burden of an absent father, a sick mother, and Billy's own personal struggles with his sexuality led to substance abuse as a means of escape.  The dark path of addiction led him to a solution that would not only help him to get well but would send him down a life path filled with purpose and meaning. Billy relocated to California and ended up at Tree House Recovery. During his his time in treatment Billy was challenged to find strength in connection with others, a deeper connection with his body, and a sense of self that would lead him to realizing his purpose. Tree House provided a platform for Billy that allowed his diversity, strength, and work ethic to truly shine.  He was immediately picked out by the staff as having a attributes that if understood could lead to true greatness.  Billy is a rare soul, a true example of how a person can use their own personal hardships, combined with willingness and hard work to develop a fortified and unwavering sense of self.
His new fascination with the mind led to his academic pathway changing from premed to a PHD in Professional Counseling.  Mr. Grande concurrently worked on finishing his bachelor's degree in psychology while going to school to get his CADC. When Billy was qualified to do so he began working in the counselor mentorship program at Tree House studying under both Paula Clark and Geoffrey Blaylock.  Billy was then selected to help develop the basic structure of Tree House's housing department where he aided in opening two homes that continue to provide care for men who are recovering from substance use disorder to this day.   Billy eventually began working as a counselor at Tree House and quickly became one of Tree House's lead clinicians where he ran Tree House's Addiction Education curriculum, one on one counseling, and group therapy sessions. Toward the end of his second year Billy was selected by Tree House leadership and his peers to open Tree House PDX as the Clinical Director, making him the youngest person to be offered such a position in Tree House history. 
Mr. Grande currently leads the staff at Tree House PDX with compassion and integrity. His work includes treatment planning, one on one counseling,  addiction education, group therapy, and community outreach.  Billy's plans for the immediate future include helping Tree House to grow its Portland location from a 12 person capacity to 36 while concurrently completing his PHD in professional counseling.   
"If I had to say what it is that I bring to the table I would tell you that it's me.  I am a human being who has found strength through struggle, peace through compassion, and purpose through hard work and a genuine love for mankind." -Billy Grande